Usually from pre-school age up, these classes introduce early academic subjects like science, maths and reading in a fun way to keep little ones interested.  School learning can be enhanced with extra academic and educational themed classes and one-to-one tutors can support specific educational needs too.  Find out more about the benefits of Academic and Education Activities.

Looking to nurture your child's interest in computer science? Do you have a computer genius in your family that wants to be a game designer, coder or even tech entrepreneur? Holiday Clubs and After School Computing Clubs give you a chance to let them explore, play and learn with other children that share the same interests. 
There are many varieties of activities from robotics, video game design and even app development. All for a wide variety of age groups. Coding skills they learn in one area of expertise are readily transferable to other areas. The more they practice the better they get at solving problems, thinking logically and making cool projects with code. Courses teach everything students need to know to make a 3D video games, such as: 3D Modelling,  Texturing, Animation, Level Design, Scripting. During a course, there's rotation between these techniques in order to teach all aspects of games design to students.
Science on a kid's level is all about bringing facts and laboratory tests to life! Classes are now available around the UK which make learning about science a fun - and interactive - experience, whilst being highly educational too.
Mini Professors are the first science program that has been designed specifically for preschool children. Our 40 minute themed sessions make science fun and enjoyable for pre-school children. With 72 different topics spanning 2 years, your child will learn something new each week ranging from microscopic creatures to chromatography or making clouds. Mini Professors get to wear their own mini lab coats and learn about the basic principles of scientific experimentation, whilst having loads of fun and generally getting stuck in.
We are Amazelab putting a fun and creative take on all things STEAM (science, technology, engineering, arts and maths) with the aim of providing engaging opportunities to people via workshops, video link, activity packs, follow along factsheets, and guidance open to all from educational settings to non -school groups and everyone in between.
Our aim is to deliver an inspiring, creative take on STEAM subjects, their relevance to everyday life and deliver this in a fun but thought-provoking manner.
Our STEAM workshops are of benefit to everyone, there continues to be a huge skills gap in these subjects especially science, technology, engineering and maths. Encouraging people, at a young age, into these subjects is vital. You never know who the next Tim Peake or David Attenborough will be but to play a small part with the hope of igniting a spark for young people to take these subjects further is extremely rewarding.
Our workshops are also a fantastic social experience. They are a wonderful place for friends and families to come together plus an opportunity to make new friends. People have also mentioned the benefits of mental well being of children in their care attending our workshops combined with hand eye, coordination plus innovation, creativity and problem solving.
Amazelab is directed by a qualified teacher and have many award wins including STEM Inspiration award.
Tutoring can help children understand the subject in more detail, boost confidence, and build important learning skills. This helps children who struggle to keep up in class, as well as those who need further challenges to expand their knowledge.

Flying Start Tuition have a different approach to tuition that incorporates a unique blend of traditional teaching skills, technology and neuro-linguistic programming (NLP). We don't just teach our students what to learn, we teach them how to learn and we help them to develop the skills to become effective, confident learners. We call this our learn smarter approach.
From laying strong foundations in the primary years, through to support with exams such as the Eleven Plus and GCSEs, our expert tuition will help your child to stand tall and fly high with confidence.

Maths tutoring can help children understand the different subjects in more detail, boost confidence, and build important learning skills. This helps children who struggle to keep up in class, as well as those who need further challenges to expand their knowledge.

Number Train classes inspire and educate young children to love maths from an early age so that go on to succeed in life!  Each week, our qualified teachers take preschool children (and their parents!) on a fun and interactive journey of discovery as we travel around the world learning about maths.
At Number Train, we believe in promoting a positive attitude to maths by ensuring that every part, of every lesson, is engaging, so we dance, we sing, we play and we paint!!  Each week is different and we use a range of educational resources to allow children to experience numbers, counting, shape, space and measure in a variety of ways. The children are learning ...and so are the parents as we share many ideas for them to try at home.
The 36-week Number Train programme has been carefully designed by an experienced primary school teacher who is passionate about making maths fun so that more children go on to love and succeed in the subject.  "After teaching for over 15 years, I saw so many children disliking maths. Often this was because the basic knowledge wasn't strong or they lacked confidence.  Number Train is designed to prevent this from happening - it builds strong foundations in maths so the children start school feeling confident and can build on them."
Number Train is just the ticket for preschool children! Climb aboard today!


Learning a new language can boost problem-solving, critical-thinking, and listening skills, in addition to improving memory, concentration, and the ability to multitask. Children who can speak a different language also show signs of enhanced creativity and mental flexibility.
Kidslingo's multi-award-winning French and Spanish classes are a fun and interactive mix of games, songs, story-telling and drama. Whether you are looking for a class in local venues, in your own home, online or to run in your child's schools or nursery – Kidslingo has the answer!
We also provide FREE access to 250+ online games and activity sheets to all customers, so the children can practise their language skills at home.
Learning languages has huge benefits including increased cognitive development and enhanced self-confidence. There's never been a better time to give your child a skill for life.
Before your baby even arrives there are a huge choice of classes and courses to help your physical and emotional well-being during pregnancy. To keep active you could try aquanatal classes or pregnancy yoga. And to help understand the changes to your body during pregnancy and get all the facts about labour and breastfeeding you can contact your health visitor or the NCT.
It's important to take time for you after your baby is born and one of the ways to do this is by attending postnatal exercise. You do need to ensure that your Doctor has agreed you are physically ready to start exercising again but the postnatal exercises will help ensure you don't over do it! Some classes are available that you can do with your baby PLUS pushchair!

Baby & Children's Health, Development and Play
There is much for you to enjoy with your baby to support development and health plus these are wonderful bonding experiences that create memories you will treasure.  Find our more about the benefits of those magical first activities with your baby.

Suitable from birth, baby massage has been proven to help with a host of infant issues such as colic and sleep, as well as helping your baby's developing body systems to thrive. Infant massage is also wonderful for parents to bond and communicate with their babies even from the early days. Baby massage can be taught individually or in groups, which means it is also a lovely way to meet other parents with their babies and make life-long friendships.

Imagine if instead of screaming your baby was able to tell you exactly what was wrong or what they wanted. Using simple sign language with your baby could open up a window into your child's mind. Moreover you will learn a beneficial skill and entertain your baby! The most frequently asked question about this growing phenomenon is "will signing with my baby inhibit their speech?" Research shows, that in fact the opposite is true - baby signing provides a platform for your baby to develop language and it also reduces frustration. Meet like-minded parents and experience for yourself the benefits and joys of signing with your baby.

Baby and Toddler groups are a great way for you and your little one to make special memories together, explore a variety of activities and make new friends in your local area.
Loved by parents and Early Years Practitioners, Playcubs delivers fun, relaxed and interactive groups filled with simple tips and play ideas. The groups are created and run by a Speech and Language Therapist to help develop important life skills including:
•    Attention and listening skills - to help make learning easier
•    Social interaction skills - to help make new friend
•    Communication skills - to help support your child to express themselves

Groups are suitable for children from birth to preschool. Each group is specifically designed for your child's age and stage of development to promote early learning through a variety of fun play opportunities including free play, sensory play, crafts, singing, signing and much more!

Yoga and mindfulness classes have many benefits to children's development and wellbeing, covering their emotional and physical needs.  Exercising in this way can help little ones sleep patterns, digestion, colic and boost the immune system and just some of the benefits for toddlers include self-discovery, language & communication, increased attention span, co-ordination, and social skills.  
Older children often need reassurance that feelings like anger, frustration, sadness, worry, are ok, It's important to teach them skills that will help them to find ways to work through feelings to help them back to 'their safe place' by understanding and communicating their feelings.  Yoga & Mindfulness enable us to do this along with boosting self-esteem & confidence in themselves.

Classes at Mitchy Titch focus on having fun whilst learning new skills and improving our health and wellbeing.  Engaging, fun, stimulating classes for babies, toddlers, children and their grown-ups ensures  you all get the many benefits from yoga stretches, breathing techniques and mindfulness skills from a very young age enabling us all to grow our self-care skills.
Sensory play is crucial to baby learning and development from birth. Sensory play fuels healthy brain development and is an essential component for normal intellectual and physical development.
At Baby Sensory, multi-award winning classes will introduce you and your baby to a world of sensory delights, where the two of you can relax, spend quality time with each other and enjoy meeting other new parents. Specifically designed from birth, the programme is packed with an incredible variety of sounds, smells, sights, textures, music, dance, signing and massage – and you'll never experience the same class twice.
Baby Sensory is a magical world, full of glowing balls, light shows, puppets, bubbles, petals, rainbows, even an underwater experience of breathtaking imagination. Everything we do is backed by scientific research, carefully designed with your baby's development in mind, and we're passionate about sharing our knowledge.
Role Play Classes are an amazing way to spend quality play time with your child and develop your child's confidence and independence at the same time.
As your child attends week on week, they become familiar with the role play areas and move their learning on by experimenting and exploring new scenarios. This is turn develops their social skills, language and literacy, maths and problem solving and builds on their creativity and imagination.
Pop Up Play Village offer fantastic role play classes which are child led which means that your child is in the driving seat leading their play and taking it any direction that they choose. A very powerful way to learn and develop whilst having lots of fun at the same time.
Entertainment, Days Out and Family Events
Alongside regular activities, classes and groups, you will want to get out and about together to visit the many wonderful events and places across the UK.  Whatever the age of your children - or the weather - there are attractions and events that will delight the whole family.  Often a less structured experience and equally important to relax and have lots of fun together.
Many wonderful days out can be enjoyed for free in the UK coast, countryside and cities.  Equally things can get very expensive.  It's a good idea to plan your day, bring all or some of your own refreshments and prepare for all weathers.
Holiday Clubs and Childcare
We all need childcare, whether it's regularly or just occasionally, and there are a lot of different options such as nurseries, pre-school and after school clubs (sometimes called wrap-around), holiday clubs and community pre-schools.  All have their merits and it will be an important task to find the right one for you and your children.  Often these settings include regular activities as well.   Most will be OFSTED regulated but please be aware that not all holiday clubs are required to OFSTED regulated meaning anyone can set one up.  It is very important to check that holiday clubs are either OFSTED regulated or a member of the
Children's Activities Association
.
Confidence boosting adventures in the school holidays for 4 ½ to 14 year olds. Barracudas Activity Day Camps is a market leader, offering an amazing experience for children in fantastic settings for over 30 years. 
With over 80 activities available from sports to arts and crafts and specialist sessions, there's plenty of fun on offer. And, with 6 sessions a day and a choice for every one, Barracudas will suit your child, whatever they're into! Children are guaranteed a fantastic choice of quality activities, delivered by highly qualified, enhanced level DBS checked staff.
Ofsted registered and with an excellent Trustpilot rating, you can have peace of mind they're in safe hands at Barracudas.
It is now commonly understood that teaching children languages from an early age really helps them to excel through their school years as it also helps their development in other subjects, enhancing their speech and understanding of their own language as well as increasing their confidence and overall cognitive development.
Languages are now taught to baby using songs and puppets making the learning natural and fun.  More structured language classes for young children build on this whilst keeping it fun and complementing language learning at school.  Find out more about Language based Activities.

Music, Dance and Performing Arts
Music, drama, dance and singing are proven to help build confidence and social skills in all children as well as being lots of fun so don't think these classes are just for little starlets.  Babies and young children can benefit from many aspects of music and performing arts and there are lively and colourful sessions for babies and toddlers that can help developments such as crawling, walking and talking.   More formal performing arts involving stage productions tend to be for slightly older children (usually 4+).  Find out more about the benefits of Musical Activities.

Ballet dance classes allow babies, toddlers and young children to enjoy the physical and social benefits of ballet, song and dance in a safe, caring, positive and informal environment. Using a combination of music, movement and props, the class is a musical sensory experience for grown-ups and their babies to enjoy together with a real focus on learning through play.

Dance is a fantastic hobby for a child and Tappy Toes would love to tell you why.
Dance classes have a wide range of benefits on both the body and the mind. Dancing can increase your child's flexibility and range of motion, as well as their physical strength and stamina. Development in these areas can also help children with sports and other activities outside of the dance studio.
No one can resist smiling when watching toddlers dance to music. They just don't have any inhibitions like us adults. But did you know that dancing really benefits babies and toddlers? Dancing and music aren't just fun ways to pass the time. In fact, dancing helps children develop communication skills, self-expression, focus, rhythm and musicality. Learning to dance also builds confidence and self-belief.
Drama, dance and singing are proven to help build confidence and social skills in all children as well as being lots of fun so don't think these classes are just for little starlets. Traditionally for slightly older children (usually 4+), there are also lively and colourful sessions for babies and toddlers that can help developments such as crawling, walking and talking. Some offer a free trial session to try out the class.
Music classes are an excellent way to keep your child focused, building vital skills for the future. Classes are highly educational, great fun and everyone makes new friends!  You will know how much babies enjoy music meaning music classes can be a fabulous first class to enjoy together and why music and simple instruments are used in many baby & toddler class programmes.  As your child gets older music classes can explore more technical aspects such as rhythm and notes, with more complex instruments too.
Choirs4Kids is a multi-award-winning children's activity and education provider that offers immersive music programs that boost children's confidence and joy through singing.
Based in Australia and run by Sue Ross, a lifelong educator with over 25yrs teaching experience in the U.K. and Australia. All of their classes are held live - online. They offer daily, virtual group singing sessions to over 130 children in around 17 countries.
Rather than focus on singing to become professionals, they encourage singing for its love, no matter how children may sound or their experience level.
Choirs4Kids mission is to connect voices across the globe whilst cultivating confidence in children and improving their mental health. 




Support, Health and Advice
We have heard from many Mums and Dads that find the regular activities and classes they attend important for the general well-being as they can provided much needed social interactions and general support especially when your baby is very small.  There are also many groups and networks that are set up to support families with particular circumstances or needs.  Your health professionals are a good place to start when looking for a local group that can help you.  Often they have online networks too that can help between meetings.

Uniformed groups, think Brownies, Cubs, Guides, Sea Cadets and more, have been established for many hundreds of years and are just as popular today.  They've moved with the times but continue to provide important life skills and experiences.  They are usually run by volunteers from community venues.  Be warned that most have a long waiting list and if you want your child to attend put them on the list well in advance, sometimes years in advance, to ensure that you have a place.
X
MEMBER

Quick Sign-up

Or

Already have an account? Login here.
X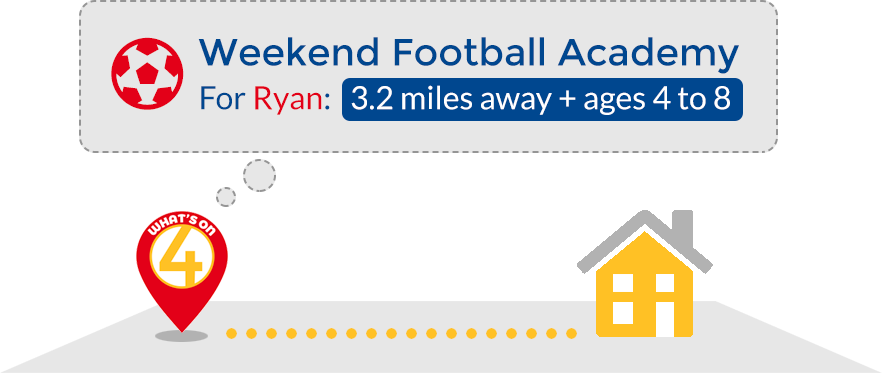 Sign-up for tailored recommendations for YOUR child
Fast sign-up with Facebook, Google or by email
Enter your location, childs interests and age group (all optional)
See recommendations and suggestons built especially for your child