Important update - Restrictions in Scotland, Northern Ireland, Wales and England may mean that classes in your local area are not running in-person at the moment. So that you and your child can continue to enjoy the many benefits of children's classes there may be online classes available and this information will be on the local class pages found in our search. It's best to check with the class teacher too.

We hope to be 'back in class' across the whole country once again very soon. Thank you for your support of What's On 4 Kids and all the amazing children's classes and activities across the UK

Close message
There are so many benefits for both you and your children and you can start from when they are babies and continue up to school age and beyond. One of the main reasons many parents go to activities is the chance for you and your children to socialise with other local parents and children. It's never too early to start!
There is so much choice of different activities, clubs and classes.  How do you know what is right for you and your children?  It's often a case of a balance between what you want to gain from the activity and what fits with the time you have available.  Try out a few different activities and see how it goes, if it isn't right for you there are so many more activities waiting to be discovered.

With all activities and classes we advise doing your research beforehand to check if they are a member of the Children's Activities Association as well as to find out times, costs and availability.
Why not ask if you can come along to try the class before committing to a number of sessions?
To get you started we have pulled out more info on some of our favourite activities on this page.  Have an explore and see what catches your eye.

Usually from pre-school age up, these classes introduce early academic subjects like science, maths and reading in a fun way to keep little ones interested.  School learning can be enhanced with extra academic and educational themed classes and one-to-one tutors can support specific educational needs too.  Find out more about the benefits of Academic and Education Activities.

Looking to nurture your child's interest in computer science? Do you have a computer genius in your family that wants to be a game designer, coder or even tech entrepreneur? Holiday Clubs and After School Computing Clubs give you a chance to let them explore, play and learn with other children that share the same interests. 
There are many varieties of activities from robotics, video game design and even app development. All for a wide variety of age groups. Coding skills they learn in one area of expertise are readily transferable to other areas. The more they practice the better they get at solving problems, thinking logically and making cool projects with code. Courses teach everything students need to know to make a 3D video games, such as: 3D Modelling,  Texturing, Animation, Level Design, Scripting. During a course, there's rotation between these techniques in order to teach all aspects of games design to students.
Science on a kid's level is all about bringing facts and laboratory tests to life! Classes are now available around the UK which make learning about science a fun - and interactive - experience, whilst being highly educational too.
Mini Professors are the first science program that has been designed specifically for preschool children. Our 40 minute themed sessions make science fun and enjoyable for pre-school children. With 72 different topics spanning 2 years, your child will learn something new each week ranging from microscopic creatures to chromatography or making clouds. Mini Professors get to wear their own mini lab coats and learn about the basic principles of scientific experimentation, whilst having loads of fun and generally getting stuck in.
Before your baby even arrives there are a huge choice of classes and courses to help your physical and emotional well-being during pregnancy. To keep active you could try aquanatal classes or pregnancy yoga. And to help understand the changes to your body during pregnancy and get all the facts about labour and breastfeeding you can contact your health visitor or the NCT.
It's important to take time for you after your baby is born and one of the ways to do this is by attending postnatal exercise. You do need to ensure that your Doctor has agreed you are physically ready to start exercising again but the postnatal exercises will help ensure you don't over do it! Some classes are available that you can do with your baby PLUS pushchair!



Baby Health, Development and Play
There is much for you to enjoy with your baby to support development and health plus these are wonderful bonding experiences that create memories you will treasure.  Find our more about the benefits of those magical first activities with your baby.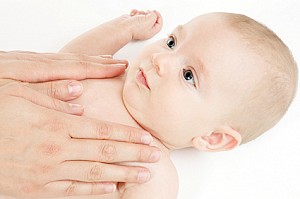 Suitable from birth, baby massage has been proven to help with a host of infant issues such as colic and sleep, as well as helping your baby's developing body systems to thrive. Infant massage is also wonderful for parents to bond and communicate with their babies even from the early days. Baby massage can be taught individually or in groups, which means it is also a lovely way to meet other parents with their babies and make life-long friendships.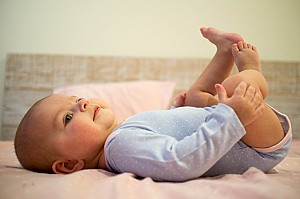 Imagine if instead of screaming your baby was able to tell you exactly what was wrong or what they wanted. Using simple sign language with your baby could open up a window into your child's mind. Moreover you will learn a beneficial skill and entertain your baby! The most frequently asked question about this growing phenomenon is "will signing with my baby inhibit their speech?" Research shows, that in fact the opposite is true - baby signing provides a platform for your baby to develop language and it also reduces frustration. Meet like-minded parents and experience for yourself the benefits and joys of signing with your baby.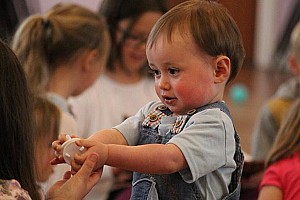 A great all round activity that helps you also meet parents in the local area. Often run by volunteers and held in church halls and other community buildings. They are also very good value and are sometimes free. Refreshments are usually provided. They usually provide a good assortment of toys and have other activities such as painting or craft available. Expect to finish with some songs!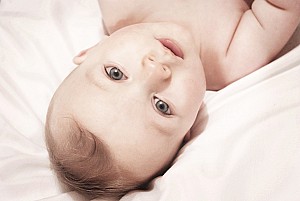 Baby Yoga teaches gentle soft stretches and yoga inspired movements that can assist your baby's neural development and build his or her sensory-motor skills. Practising baby yoga from the early days can also help with a host of issues such as digestion, colic, immunity and sleep. Attending a baby yoga course is also great for mothers to get back into shape safely as it will include gentle post-natal stretches for mums. Baby yoga classes will also give mothers and babies the opportunity to genuinely relax - perhaps the most precious gift in the early days of parenthood!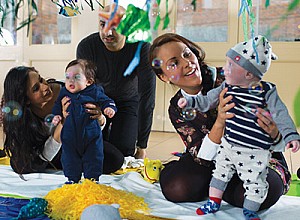 Sensory play is crucial to baby learning and development from birth. Sensory play fuels healthy brain development and is an essential component for normal intellectual and physical development.
At Baby Sensory, our multi-award winning classes will introduce you and your baby to a world of sensory delights, where the two of you can relax, spend quality time with each other and enjoy meeting other new parents. Specifically designed from birth, the programme is packed with an incredible variety of sounds, smells, sights, textures, music, dance, signing and massage – and you'll never experience the same class twice.
Baby Sensory is a magical world, full of glowing balls, light shows, puppets, bubbles, petals, rainbows, even an underwater experience of breathtaking imagination. Everything we do is backed by scientific research, carefully designed with your baby's development in mind, and we're passionate about sharing our knowledge.
Entertainment, Days Out and Family Events
Alongside regular activities, classes and groups, you will want to get out and about together to visit the many wonderful events and places across the UK.  Whatever the age of your children - or the weather - there are attractions and events that will delight the whole family.  Often a less structured experience and equally important to relax and have lots of fun together.
Many wonderful days out can be enjoyed for free in the UK coast, countryside and cities.  Equally things can get very expensive.  It's a good idea to plan your day, bring all or some of your own refreshments and prepare for all weathers.
Holiday Clubs and Childcare
We all need childcare, whether it's regularly or just occasionally, and there are a lot of different options such as nurseries, pre-school and after school clubs (sometimes called wrap-around), holiday clubs and community pre-schools.  All have their merits and it will be an important task to find the right one for you and your children.  Often these settings include regular activities as well.   Most will be OFSTED regulated but please be aware that not all holiday clubs are required to OFSTED regulated meaning anyone can set one up.  It is very important to check that holiday clubs are either OFSTED regulated or a member of the
Children's Activities Association
.
It is now commonly understood that teaching children languages from an early age really helps them to excel through their school years as it also helps their development in other subjects, enhancing their speech and understanding of their own language as well as increasing their confidence and overall cognitive development.
Languages are now taught to baby using songs and puppets making the learning natural and fun.  More structured language classes for young children build on this whilst keeping it fun and complementing language learning at school.  Find out more about Language based Activities.

Music, Dance and Performing Arts
Music, drama, dance and singing are proven to help build confidence and social skills in all children as well as being lots of fun so don't think these classes are just for little starlets.  Babies and young children can benefit from many aspects of music and performing arts and there are lively and colourful sessions for babies and toddlers that can help developments such as crawling, walking and talking.   More formal performing arts involving stage productions tend to be for slightly older children (usually 4+).  Find out more about the benefits of Musical Activities.

Ballet dance classes allow babies, toddlers and young children to enjoy the physical and social benefits of ballet, song and dance in a safe, caring, positive and informal environment. Using a combination of music, movement and props, the class is a musical sensory experience for grown-ups and their babies to enjoy together with a real focus on learning through play.  


Award winning babyballet® classes are for children from 6 months to school age.  From 6 months the class is a very gentle introduction to the class environment.  As the syllabus progresses the children in Tinies (18 months to 3 years) are encouraged to develop their movement and communication skills on their own but still with their grown-up close by. The basics of ballet are introduced through bespoke babyballet® songs, classic nursery rhymes, imaginative stories and musical instruments.

Young children love to run, jump, hop and skip, gallop, swirl, sway and spin.  As curious, impulsive explorers, learning all the time, the dancing class is an ideal environment for pre-school children to flourish, discovering where and how their bodies move.  Dancing to music develops sensitivity to sounds, melody and rhythm and an understanding of the relationship between body movements and music.
The
Melody Movement Early Learning
curriculum not only aids physical development and co-ordination, but introduces pre-school children to fundamental skills such as counting, colour, number and social skills.    Early exposure to the dancing class environment helps children acquire skills and attitudes that will stay with them through to their adult life encouraging a healthy physical lifestyle.  Melody Bear classes are taught by professional dance teachers at dancing schools across the UK
.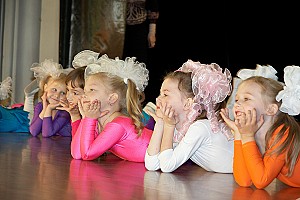 Drama, dance and singing are proven to help build confidence and social skills in all children as well as being lots of fun so don't think these classes are just for little starlets. Traditionally for slightly older children (usually 4+), there are also lively and colourful sessions for babies and toddlers that can help developments such as crawling, walking and talking. Some offer a free trial session to try out the class.
Music classes are an excellent way to keep your child amused and focused, building vital skills for the future. Classes are highly educational, great fun and everyone makes new friends!

At Jo Jingles we offer really fun music and movement sessions for babies and children aged 3 months to 5 years. Our weekly themed programmes are carefully developed to be age appropriate, and structured to work in line with the Early Years Foundation Stage. Children instinctively move when they hear music and research suggests that physical movement is important for brain development. Various studies show that memory of words and music are further enhanced by physical movement and singing. Research even suggests that the earlier music is introduced to a child the more potential that child will have for learning.
Sport and Physical Activity
This is probably the biggest category of activities with a huge range available for children of all ages.   We know how important physical activity is for our physical and mental well being though out our lives and encouraging an early interest help develops muscles and coordination too.

Try a few different activities and see what works for you and your children.  You may inspire a life-long hobby and healthy lifestyle quickly or it may take a visit to several different classes before you find the right one.  Find out more about the benefits of Sport and Physical Activities.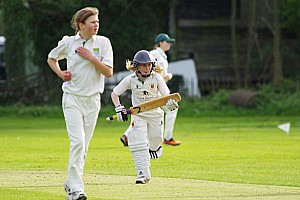 Cricket is the one sport that reaches across boundaries of gender, race and class and enables children to mix with other children from every different community. Cricket also teaches children the importance of self-reliance and practice. Although eleven cricketers make a cricket team, when the time comes to bowl your first delivery, walk out to bat or take a catch, your team mates can't do it for you and it's up to you as an individual to perform.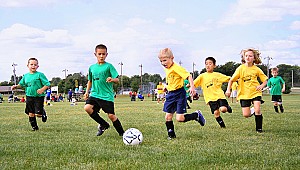 An early opportunity to learn football-inspired skills as well as developing fitness and co-ordination. Equally as relevant to boys and girls!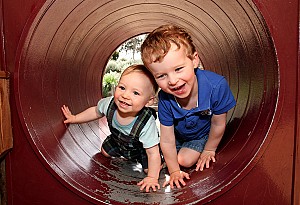 Gymnastics and movement classes for little ones often feature soft play equipment, climbing apparatus and structured games and activities. There are even classes for tiny babies which feature sensory exploration and gentle movement designed to stimulate baby in new ways. Some classes are offered in community venues and others take place in dedicated gymnastic centres.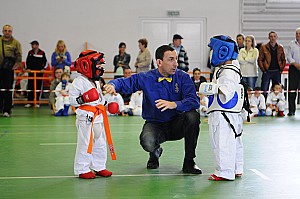 Whether they saw it on the Teenage Mutant Hero Turtles, on the Power Rangers, or on Yu Gi Oh, children today have been exposed to martial arts from an early age. From karate to kung fu, martial arts provide a powerful workout. Today's martial arts provide children with physical exercise, a chance to gain self confidence, an opportunity to interact with others, and worthwhile lessons in self defence. For children of all ages, martial arts are an exciting alternative to more traditional sports.
"Football is a gentleman's game played by hooligans, Rugby is a hooligans game played by gentlemen" Unknown. 
Why is this? The two sports are both physically active and similar in their strategy, in fact Rugby evolved from "the beautiful game". In the current world the major differences can be found in their ethos and core values.
Rugby is a fantastic game for kids to get involved in: it keeps them fit, they make friends for life and learn to work as part of a team.  The Rugby Football Union (RFU) actively promotes its core values of Teamwork, Respect, Enjoyment, Discipline and Sportsmanship. 
It's never too early to introduce your baby to swimming - even the tiniest babies develop physically, emotionally and mentally when they go swimming.  Out of all the activities you may choose for your child, we highly recommend taking your baby swimming regularly because it gives them confidence in the water and teaches them an important life skill – plus it is a great bonding experience and it's FUN!

Konfidence support a little one's journey from baby swimming through to learning to how to swim by offering a range of products that enhance the experience and help to keep them safe, warm and comfortable while they gain water confidence. Furthermore all of their products have been continuously developed in partnership with parents and swimming teachers, from their multi-award winning range of baby swimming products. Their Original Konfidence Jacket is the number one learn to swim jacket with adjustable buoyancy in Europe, an essential piece of holiday kit for children aged from 18 months – and gives parents added peace of mind at the pool and beach too.

Support, Health and Advice
We have heard from many Mums and Dads that find the regular activities and classes they attend important for the general well-being as they can provided much needed social interactions and general support especially when your baby is very small.  There are also many groups and networks that are set up to support families with particular circumstances or needs.  Your health professionals are a good place to start when looking for a local group that can help you.  Often they have online networks too that can help between meetings.

Uniformed groups, think Brownies, Cubs, Guides, Sea Cadets and more, have been established for many hundreds of years and are just as popular today.  They've moved with the times but continue to provide important life skills and experiences.  They are usually run by volunteers from community venues.  Be warned that most have a long waiting list and if you want your child to attend put them on the list well in advance, sometimes years in advance to ensure that you have a place.

X
MEMBER

Quick Sign-up

Or

Already have an account? Login here.
X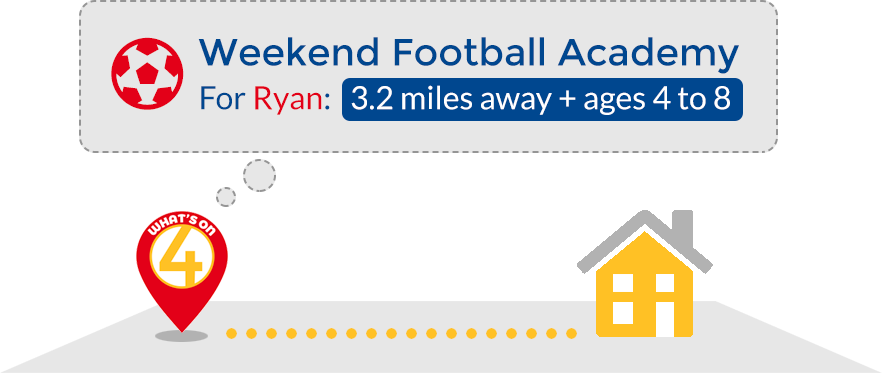 Sign-up for tailored recommendations for YOUR child
Fast sign-up with Facebook, Google or by email
Enter your location, childs interests and age group (all optional)
See recommendations and suggestons built especially for your child