Important update - Restrictions in Scotland, Northern Ireland, Wales and England may mean that classes in your local area are not running in-person at the moment. So that you and your child can continue to enjoy the many benefits of children's classes there may be online classes available and this information will be on the local class pages found in our search. It's best to check with the class teacher too.

We hope to be 'back in class' across the whole country once again very soon. Thank you for your support of What's On 4 Kids and all the amazing children's classes and activities across the UK

Close message
Thank you for visiting What's On 4 Kids and we hope we have given you lots of information and some extra inspiration on the perfect activities for you and your children.

Way back in March 2006 the our first website launched to help parents find activities for their children.  Since then we've helped millions of people find the perfect kids' activities, clubs and classes.
We love what we can do with the tech to make your life easier and that's where the What's On 4 Kids experience comes in.  
But we are a whole lot more that 'just a way to find children's activities' and we continue to devote a huge amount of our time and energy to improving this important part of family life for everyone.
This is why we are now known as the Grow4th company - find out more over at www.grow4th.co.uk !

Recognising the best

We established the first ever awards for kids' activities and have recognised and rewarded hundreds of the people and companies that you have voted the best of the best in the What's On 4 Kids Awards.  We are proud to say a big 'thank you' to so many on behalf of you!
We have also won 12 awards ourselves including several for our people and our innovation - we totally love awards!!

Safety and Quality

We recruited and led the founding team of children's activities providers and experts to establish the not-for-profit Children's Activities Association - the first organisation to put in place independent accreditation for all children's activities. 

We continue to work closely to improve the children's activities sector for parents, schools, nurseries and the professionals working in it.

Flexible-working Team

Our business was created because of a need for flexible working.  A lot has changed since 2006 but our founder, Sam Willoughby, continues to run the business day-to-day alongside a small team of parents who work flexibly - and very hard to provide for our families, just like you do!

X
MEMBER

Quick Sign-up

Or

Already have an account? Login here.
X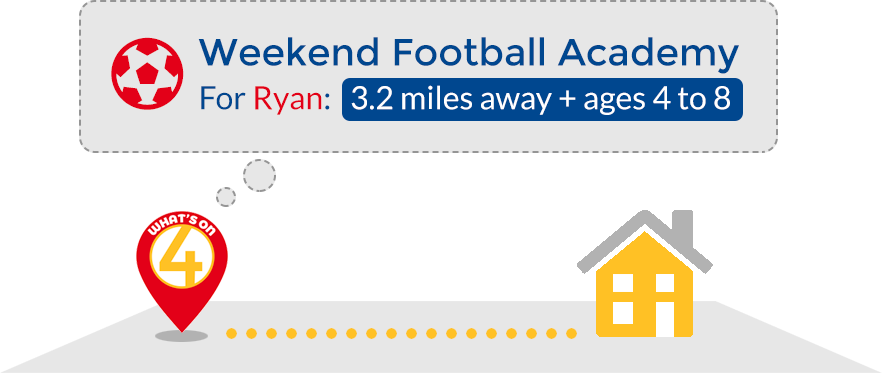 Sign-up for tailored recommendations for YOUR child
Fast sign-up with Facebook, Google or by email
Enter your location, childs interests and age group (all optional)
See recommendations and suggestons built especially for your child