Important update - Restrictions in Scotland, Northern Ireland, Wales and England may mean that classes in your local area are not running in-person at the moment. So that you and your child can continue to enjoy the many benefits of children's classes there may be online classes available and this information will be on the local class pages found in our search. It's best to check with the class teacher too.

We hope to be 'back in class' across the whole country once again very soon. Thank you for your support of What's On 4 Kids and all the amazing children's classes and activities across the UK

Close message

Magical first activities

The very first experiences shared with your baby are extra special and a time to make magical memories.
It's also a safe place for you to meet other local parents and carers that can go on to become life long friends as you share these early months.
A word from our sponsors to start us off

mumandworking is delighted to sponsor a whole day dedicated to the many very precious baby activities - we know how special these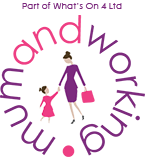 are for baby and parents. 
A new baby is a wonderful but often challenging time with many changes.  Work and career changes are bound to happen and we want to help all parents find family friendly flexible work.  We can take you on the journey from finding the right course, or interview techniques, to running your own business or franchise.   No matter what you're looking to do, we've got a career solution for you. If you're not sure where to start, take a look at our interviews with business parents and get inspiration from our monthly focus.
---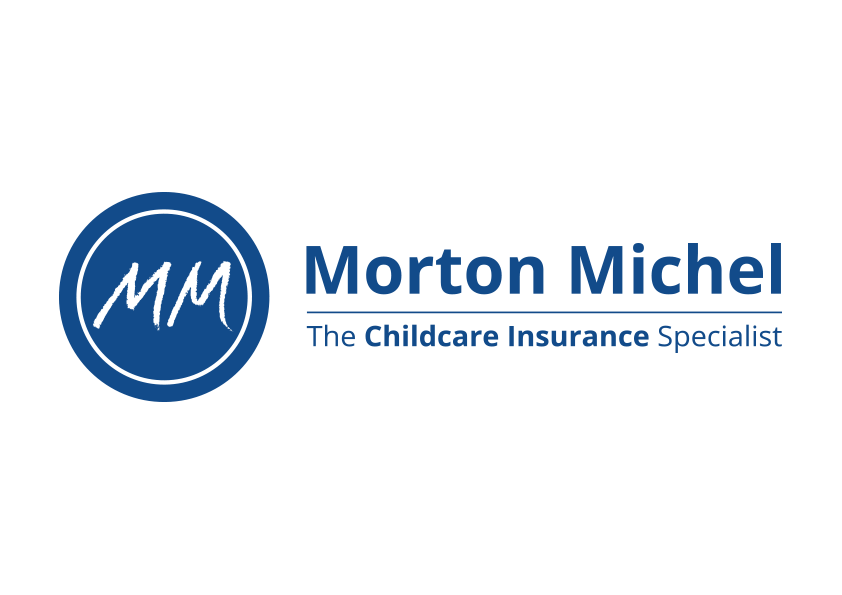 Babies learn and grow from the second they are born and activity groups are a fun and easy way to help stimulate your infant's progress. Group activities such as sensory and water play or play-based music and singing classes are all fantastic ways to develop a baby's cognitive and social skills.

Morton Michel are delighted to be a founding member of the Children's Activities Association and recognise the importance that kids' activity providers bring to a child's learning and development. They provide a specialist insurance package tailored to meet the requirements of children's activity providers which includes additional benefits to support their business. Click here to find out more.

Baby Bliss

Spend quality time with your baby.
Experience the joy of seeing your baby achieve a new skill
Programmes should be built on your baby's natural play-rest-play-cycle, to ensure they are not over stimulated.
A safe place to meet new parents, ask questions and share magical experiences together.

Many programmes for babies incorporate music-making and singing and there are good reasons for this!

Singing simple songs to your baby will help develop their speech and language skills. (Your baby will sing before they speak.)
Songs with actions are great fun but they also stimulate your baby's auditory development and the actions will help them gain understanding and the meaning of the words.
Moving and rocking to music will help develop their vestibular system, inner ear and sense of balance.
Using various props will help stimulate their vision, eye tracking, co-ordination and motor skills.
Using simple percussion instruments will help develop their listening, small motor skills, co-ordination, sensory awareness, and determination as they try again and again to master playing the instrument.

Shaking small instruments, such as a maraca, will stimulate your baby's auditory reflexes and help develop a sense of rhythm and pulse which is very important for language development and creative expression.
Exercising to music will help strengthen and develop their muscles, while at the same time instilling a sense of pulse, (which is like the heartbeat your baby was listening to in the womb).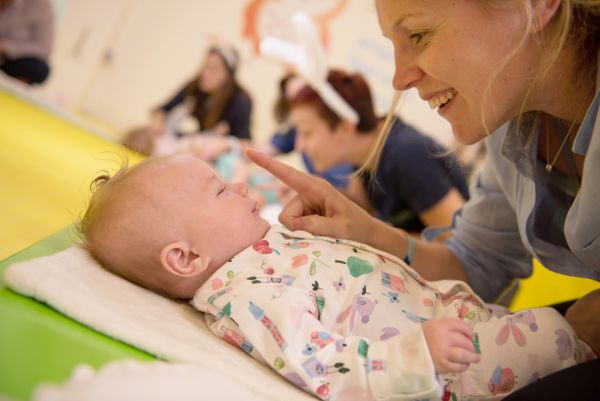 Baby Sensory was the first (and original) baby programme to offer a complete approach to learning and sensory development from birth to 13 months. Each baby class as part of the Baby Sensory programme is designed to stimulate, educate and provide precious memories during the all-important first year of life. Baby Sensory has won multiple awards both nationally and internationally since 2008 as delivering exceptional classes, for babies and parents to learn, grow and develop together.
What makes Baby Sensory unique is that every activity has been carefully designed to stimulate your baby's senses, moving their development and learning forward.  Behind every Baby Sensory session, there's an incredibly detailed lesson plan backing up everything your baby touches, sees, hears, smells and feels!
Baby Sensory provides ideas for creative play, massage, tummy time, movement and music in simple practical ways that can be easily repeated at home. We also use a combination of original and traditional songs and rhymes to develop early speech and language skills, and sensory signing activities to help you and your baby communicate from birth.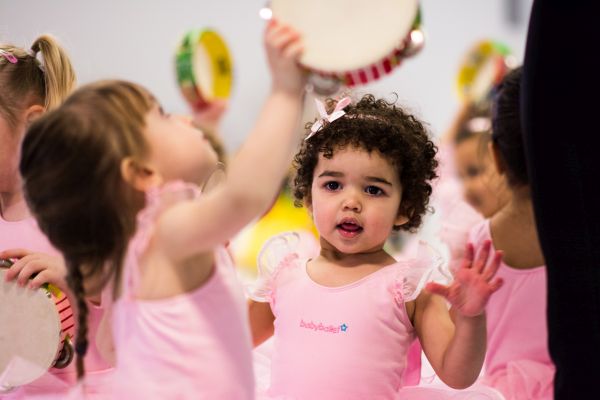 babyballet® is an award-winning programme offering an exciting educational movement to music programme for both pre-school boys and girls aged from 6 months to 6 years. The syllabus is designed to encourage babies and young children to enjoy the benefits of song and dance within a nurturing environment, whilst helping to develop confidence, physical and cognitive ability and freedom of expression. We firmly believe that every child irrespective of background or ability should have access to our fun filled classes which provide a fantastic mix of education and enjoyment.

babyballet® is a high quality children's activity, with exceptional teaching standards and children's development at the top of our list of priorities. Our aim is to instil a high level of confidence in each child and enhance their natural development, through the imaginative syllabus we deliver, but with the main emphasis being on FUN!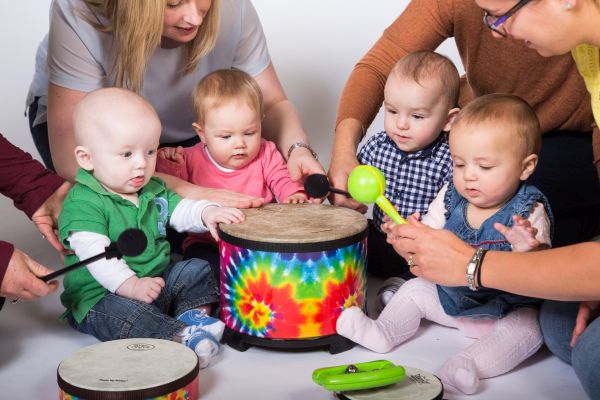 Rhythm Time was founded in 1995 and it's since become the UK's number one pre-school provider of developmental music classes. We deliver award winning, age appropriate music sessions for babies, toddlers and pre-school children across the UK.

Rhythm Time offers quality music courses specially written by a music teacher created to enhance and nurture a child's development. We start with our Young Baby Courses for new-borns to 6 months and then we progress by providing classes for older babies, toddlers and pre-schoolers so we able to provide continuity for children throughout the early years until school age.

Rhythm Time are also founding members of the Children's Activities Association and have been awarded the gold accreditation which means we have met the highest standards in our industry.

At Rhythm Time we're passionate about music and how it can help enhance a child's development. Our dedicated family of franchisees will show parents how to make music fun for their little ones and how they can help to unlock their potential by singing and making music together.  All of the content of our class is in line with the government's Early Years Foundation Stage so people know they are getting a great service.

The classes are 30 minutes long so that they fit in well with a busy parent's routine. They provide an excellent opportunity to meet new parents and hopefully make some great friends too.



More baby classes and groups happening across the UK!

X
MEMBER

Quick Sign-up

Or

Already have an account? Login here.
X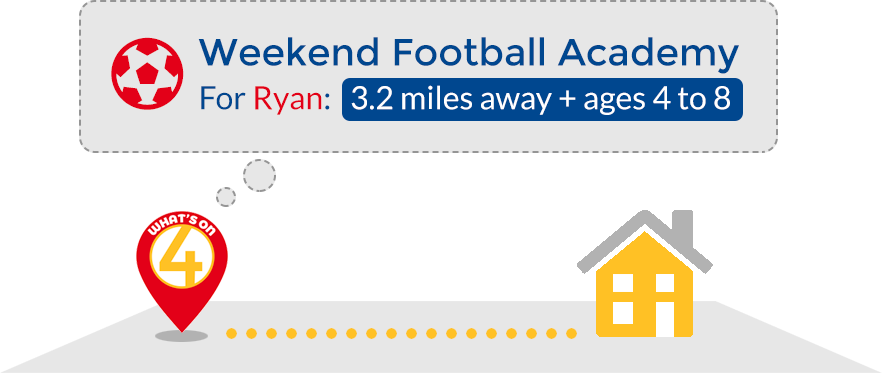 Sign-up for tailored recommendations for YOUR child
Fast sign-up with Facebook, Google or by email
Enter your location, childs interests and age group (all optional)
See recommendations and suggestons built especially for your child