Recognising and rewarding the most loved children's activities in the UK since 2006!

 

We are delighted to welcome a RECORD number of sponsors and supporters for the What's On 4 Kids Activities Awards this year. It's wonderful to see the continued, ongoing support for the awards from so many businesses and also to say a big 'hello' to our variety of new sponsors, joining us for the 1st time.
We are so grateful to all these companies and our amazing Judges for their support and can't wait to celebrate our fabulous finalists alongside our 15th birthday.
In this unprecedented year we wanted to reward the nation's very best children's activities providers with an unforgettable event like never seen before for this important sector.
We could not however be hosting the awards at 'Warner Bros. Studio Tour London – The Making of Harry Potter' without the amazing sponsors and supporters below, who shared this vision and wanted to join us to say a big 'THANK YOU' to all those activity providers who continue to make such a difference to the lives of parents and little ones! Thank you to everyone who is contributing to make this spectacular night happen! 


Morton Michel
Morton Michel has been working with and supporting the children's activities sector for almost 50 years and fully understand the importance that children's activity providers bring to a child's learning and development.
Our Children's Activity Group policy is designed to offer flexibility so you can select the cover you need to meet your unique circumstances.
All policyholders receive automatic entry to our ChildCare Club,  containing an exclusive range of additional benefits and discounts. This includes FREE access to over 70 RoSPA-accredited, CPD-certified online training courses from flick learning to help you train all your staff and run your business!
Find out more HERE

Total Release Experience
Caroline Purvey is CEO of TRE UK® and founder of the Total Release Experience® Programme.  Award winning author and international speaker.
Her Online Course empowers clients with a life-tool to release blocked tension in their body from past stress, overwhelm and trauma.  With full education and support they discover the healing power of their body to let go of the past and build resilience. 

A fantastic parenting tool, to lead children with so they don't carry their past into their future.  It is exciting to know we can all take responsibility for our own wellbeing and be able to teach and lead our children to do the same.
Find out more HERE
Voting and Arrivals Sponsor

beecard - The children's activity gift card

Add beecard to your child's gift wish list now and they will receive a present that can last a lifetime.
Grandparents, aunts, uncles and anyone else can now give a truly thoughtul gift to your child – a life-changing gift that promotes health and well-being, fun, educational benefits, and one that little ones can experience and enjoy with their family.
Easy to buy, easy to give, valid at 100s of locations across the UK.
By gifting a beecard, a child, with their parents/carers, will be able to choose from some of the best and most popular children's activities and classes in their area. From award-winning sports, music, drama and dance activities to academic and language classes.
Buy, receive and spend beecard all on the dedicated app.
Find out more HERE

Nomination and Dessert Sponsor

ThinkSmart Software
ThinkSmart Software is a class booking, management & admin system that's been designed to fit the specific needs of kids' activities, clubs and classes.

From taking care of scheduling & class management; to making customer communications, reporting, automatic invoicing & taking payments a doddle, our world-class software does it all (and lots more!).

Whatever the size of your business, our intuitive system will automate and improve all those admin jobs that can be so overwhelming – giving you precious time back to focus on what you love doing most!

To unlock the secret to working smarter, not harder, sign up to our 14-day FREE trial today.
Find out more HERE

Trustist - Gryffindor House Sponsor™ and Programme Sponsor

Businesses with over 25 recent reviews can see a 108% increase in bookings. Trustist helps kids' activities providers get more bookings by helping you easily collect new reviews from your customers.
Trustist then automatically gets your new reviews in front of your potential customers when they visit Google or your website by getting stars in your organic Google search results.
•    Stars in search – you will make more sales because we get you stars in your organic Google search results
•    Review Aggregation – you will be able to see in a snapshot what your online reputation is
•    Review collection – your online reputation will improve by using Trustist…we guarantee it
•    Social media – your best reviews automatically shared to your favourite social media profiles
Book a free demo today HERE

garaj web development - Slytherin House Sponsor™
garaj is a web development consultancy with a difference. using the latest tools we can help you deliver amazing web applications at a fraction of the time, cost, and headache of traditional developers.
Find out more HERE

Little Darling Childcare - Hufflepuff House Sponsor™
We are a home-based childcare setting in Harrow, West London.
Our service is based on providing you with quality childcare in a safe, secure and stimulating environment. Along with a team of passionate, committed and highly skilled team of childcare professionals, we treat all the children as if they were our own.
We also offer an emergency childcare service for professionals and local companies.We are open weekdays from 07:30 until 18:30 with the flexibility of extended hours if needed. We know how busy parents work lives can get.
Find out more HERE

babyballet - Ravenclaw House Sponsor™

babyballet® is delighted to be a sponsor in the What's On 4 Kids Activities Awards and wishes all finalists sparkling good luck wishes!

In addition to helping children explore, learn and grow as individuals, the babyballet® brand is well known for its family-feel and close relationships within the franchise network. Franchisees are passionate about the brand and building their own successful dance business.

babyballet® dance classes bring joy to thousands as they strive to make learning to dance an unforgettable and magical experience for children from 6 months – 6 years old. The successful programme, founded 16 years ago in the United Kingdom, is now also available in Australia, New Zealand and Singapore.
Find out more HERE

Water Babies
Water Babies is the world's largest baby swimming school; teaching 50,000 babies every week the lifesaving skill of learning how to swim, understanding water safety and building water confidence.
The Water Babies vision is to give children the best start in life, and this is driven by welcoming all children below the age of 5 the opportunity to learn a skill for life through the Water Babies programme. Taught by the best-trained baby swimming teachers in the world, the business specialises in teaching babies under the age of 1, with its youngest water baby being just one day old!
Find out more HERE
Association of Indoor Play

The Association of Indoor Play (AIP) is the leading trade association for the indoor play sector in the United Kingdom.
We are a not for profit organisation and act as the voice of the Indoor Play Sector. We are committed to raise the profile of the benefits of indoor play with the public and the Government and to raising the standards and rewarding
excellence within the industry.
Look for the AIP logo when choosing your indoor playcentre.
Find out more HERE

Little Movers
Little movers is an award winning, exciting dance and movement programme established in 2007.
We offer fun, engaging classes, events, PE and parties across the UK.
Our programme is specifically designed to engage Preschool children and their families to encourage them to Dance and Play and Keep Fit Every day.
At Little Movers Every Child Matters and our Intergeneration workshops demonstrate you are never too young to Dance and you are never too old to play!
Little Movers is enjoyed by everyone with babies coming along from birth and our oldest Little Mover is 103!
Find out more HERE

Bloom Baby Classes

Bloom Baby Classes provide multi award winning baby development classes across the UK. 
Following the EYFS and supporting post natal wellbeing and mental health each activity has a benefit for babies natural development and a benefit for parent too. 
Each activity has been highly researched and features the most catchiest children's songs EVER!
Find out more HERE

Hilton London Watford
Hilton London Watford is located in Hertfordshire off the M1, with convenient rail links, and just four miles from Warner Bros. Studio Tour London – The Making of Harry Potter.
The hotel features a selection of family room options to accommodate groups of all sizes and ages, including double rooms with sofa beds, Confirmed Connecting Rooms by Hilton™ and suites that have a separate bedroom and a living area with a sofa bed. A special family check-in is available, kids receive a free activity book and children 12 and under dine free from the Little Travellers menu if eating with an adult who is eating a main meal.
Extended families staying together at the hotel can even choose to host private celebration dinners in one of our small event space with a bespoke menu designed for the occasion.
Find out more HERE

Little Sensory Co

The Little Sensory Company offers a variety of sessions for children from newborn through to five years of age.
Sensory activities naturally encourage children to create, investigate and explore the world around them. Children learn best and retain the most information when they engage their senses.
Many of our favourite memories are associated with one or more of our senses. By giving children the opportunity to investigate materials with no preconceived knowledge, you're helping them to develop their cognitive and creative abilities.
Find out more HERE
Baby Squids
Everyone is welcome at Baby Squids!
Our main aim is to make our pre-school and baby swimming lessons an inclusive, enchanting experience that gives your child vital life skills whilst they are having lots of fun!
Our passionate teachers love what they do and will help to guide parents through each child's development at their own pace. We focus on a supportive and nurturing environment for children, parents and franchisees to develop their skills in.
Find out more HERE

UK Nanny
Aiming to take the Nanny industry to the next level by bringing Nannies together, helping them grow from strength to strength. UK Nanny deliver's CPD events, shares resources, and creates opportunities for Nannies to get together.
The driving force behind UK Nanny is award-winning Nanny Helen McCarthy who cares passionately about the industry.
Helen is the founder and CEO of UK Nanny. She is a qualified NNEB Nanny with over 30 years' experience within the industry. In 2016 Helen was awarded International Nanny of the Year. She currently services as Co Vice President The International Nanny Association (INA).
Find out more HERE
Amanda's Action Club
Amanda Frolich is the award-winning CEO of Amanda's Action Club, an innovative physical development concept teaching children and parents how to be active together.
Through her own music - songs for children made with adult production values - classes, events and campaigns, Amanda has spent the past 30 years telling anyone who will listen, including the Prime Minister, that a healthy body equals a happy mind.
Amanda may be serious about her mission, but her personality is anything but. She's dynamic, inspirational and effervescent which is why she resonates so well with children and the media. Her charismatic approach has seen her hand-picked to open the annual GOSH Christmas Party and the London Taxi Driver's Children's Charity event. It's also earned her an A-list celebrity following. She counts Brad and Angelina, David and Victoria Beckham, Declan Donnelly and Amanda Holden among thousands of satisfied customers.
Find out more HERE
diddi dance

diddi dance classes are designed to help toddlers enhance their coordination and rhythm. We aim to nurture their natural love of movement in a structured yet relaxed 45-minute class. Classes are suitable for both boys and girls, once they are confident on their feet, right through to school age.
In our classes we use action songs, dancing games, fun exercises, hoops, ribbons and much more all to our own original, funky music. We explore 16 dance themes such as salsa, hula, jive and disco allowing children the chance to discover different music and dance styles as well as having tons of fun!"
Find out more HERE
Caudwell Children
Caudwell Children is a national charity providing a wide range of practical and emotional support for thousands of disabled children and families every year.

Passionate about diversity, equity and inclusion, we 'see the child, not the disability' and strive to remove the barriers which prevent children from reaching their full potential.

Vision: A world where all disabled children and their families have choice, opportunity, dignity and understanding.
Mission: Practical and emotional support through compassionate and efficient services
Motto: Whatever It Takes

Find out more HERE
The Baby Show
The Baby Shows are the UK's leading and largest pregnancy and parenting event series. We've been helping new and expectant parents find everything they need for their growing family since 2002.
Taking place three times a year at ExCeL London, NEC Birmingham and Olympia London, The Baby Show's live events attracts over 70,000 attendees a year.
Find out more HERE
NatWest
NatWest are once again delighted to be part of the What's On 4 Kids Activities Awards. We are continually inspired by the many stories we hear about through these Awards, tales of entrepreneurial and personal successes across different business sectors. The Awards are a great opportunity to celebrate these, as well as recognise the overall level of skill and talent evident within the sector.
We are also extremely pleased to be able to share with you our Free MoneySense programme which is available for anyone to access and build into their businesses (or indeed to use with your own family).  MoneySense is a free financial education programme for 5-18 year olds with fun activities, games and resources that help teach children about money at home, as well as in schools. It uses key money moments in a young person's life to make learning about money feel real and relevant. Visit mymoneysense.com for more information.
.
Find out more HERE
flexibleworking.works

flexibleworking.works – the 'go-to' website for family-friendly, flexible working opportunities.
We love supporting children's activities businesses alongside a whole range of other sectors to find the perfect candidates PLUS helping parents get that family-friendly 'work-life' balance.
We've been all about flexible working for over a decade. To make sure 'flexible' and 'family-friendly' is a big part of YOUR future employment pathway and start living your dreams.

Find out more HERE
Remarkable Achievement within the Pandemic Award Judge
Michelle Reeves is a certified life coach and business mentor, host of The Ideal Life Club podcast, author of "The Happiness Habits Transformation" and a regular speaker at live and online events.
Find out more HERE
The 'Steve Franks' Industry Champion of the Year Award Judge
Not one judge, but many as the whole of the Children's Activities Association Board come together once again to judge the Industry Champion award category for the 5th year.
The Children's Activities Association is an industry-led, not-for-profit community interest company founded and governed by experts to help parents, schools, nurseries and all children's activities providers by raising the standard of children's activities as well as give more families access to these excellent activities.
Find out more HERE
X
MEMBER

Quick Sign-up

Or

Already have an account? Login here.
X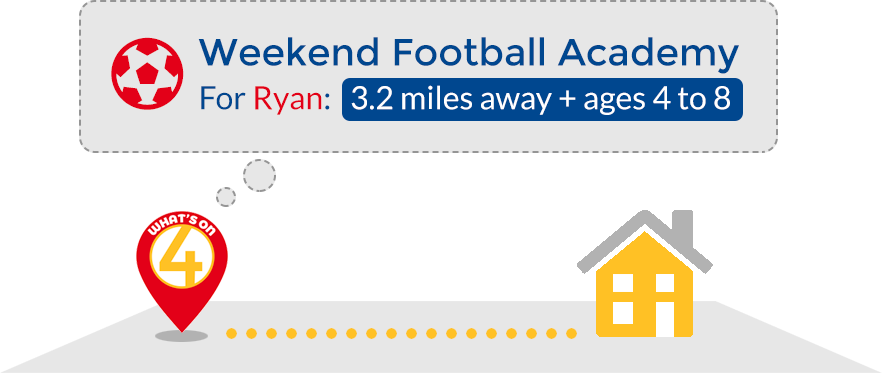 Sign-up for tailored recommendations for YOUR child
Fast sign-up with Facebook, Google or by email
Enter your location, childs interests and age group (all optional)
See recommendations and suggestons built especially for your child