Recognising and rewarding the most loved children's activities in the UK since 2006!

 

We are delighted to welcome our sponsors and supporters for the What's On 4 Kids National Children's Activities Awards this year. It's wonderful to see the continued, ongoing support for the awards from so many businesses and also to say a big 'hello' to our variety of new sponsors, joining us for the first time.
We are so grateful to all these companies and our amazing judges for their support and can't wait to celebrate our fabulous finalists alongside our 17th year.

The 2022 What's On 4 Kids Activities Awards saw our highest ever number of votes and nominations, sponsorship at sell-out, 30 winners, 29 highly commended nominees, 100 finalists and  250 VIP guests joined us and celebrated at the ceremony. 
We cannot wait to build on these amazing foundations and shine a spotlight once again on the nation's very best children's activities, teachers, volunteers and venues - culminating in THE annual industry event this Autumn to celebrate this inspiring Sector.
"These are the crème de la crème of awards, have a great reputation and bring value to my business".



Headline and Category Sponsor

Morton Michel
Morton Michel has been working with and supporting the children's activities sector for almost 50 years and fully understands the importance that children's activity providers bring to a child's learning and development.
Our Children's Activity Group policy is designed to offer flexibility so you can select the cover you need to meet your unique circumstances.
All policyholders receive automatic entry to our ChildCare Club,  containing an exclusive range of additional benefits and discounts. This includes FREE access to over 70 RoSPA-accredited, CPD-certified online training courses from flick learning to help you train all your staff and run your business!
Find out more HERE

Ceremony and Category Sponsor

The British Franchise Association
Established in 1977 we are the British Franchise Association (BFA), a self-regulatory trade body for UK franchising, and the proud advocates of everyone in the UK franchising sector. Supporting and educating franchisors and franchisees at every level of their development from newcomers to household names, setting the highest ethical standards to make sure everyone is treated fairly. When it comes down to it, serving people is our business, and we always do this with pride and passion to ensure a consistent and strong brand reputation.
We want to lead the charge and influence change in UK franchising. It's our purpose to be seen as 'THE' place to go for anyone in or looking to get into the franchise industry on any level. With our core aim to promote high quality, ethical business format franchising in accordance with the Code of Ethics for Franchising. We collaborate with government, academia, the media, other trade associations and the UK public on what constitutes franchising best practice. Our members then commit to upholding those standards.
Find out more HERE

Sponsors Reception and Category Sponsor

Institute of Children's Activity Providers
The Institute of Children's Activity Providers are a professional membership body and community of business owners and leaders operating in the children's activity sector.
We aim to champion best practice, raise standards and innovate, driving positive change and progression across the industry.
We believe children's activity professionals have an essential role to play in educating, entertaining and inspiring the next generation. Coming together to share challenges, ideas, questions and solutions helps us to develop individually and collectively as a community.
Find out more HERE


Celebration and Category Sponsor

ThinkSmart Software
ThinkSmart Software is a class booking, management and admin system that's been designed to fit the specific needs of kids' activities, clubs and classes.
From taking care of scheduling and class management; to making customer communications, reporting, automatic invoicing and taking payments a doddle, our world-class software does it all (and lots more!).
Whatever the size of your business, our intuitive system will automate and improve all those admin jobs that can be so overwhelming – giving you precious time back to focus on what you love doing most!
To unlock the secret to working smarter, not harder, sign up to our 14-day FREE trial today.
Find out more HERE
Andrew Doherty Photography

What I do, is who I am and my photography speaks for itself.  With over 30 years of corporate, commercial, wedding, and portrait photography, you can relax and trust me to capture images that are important to you.
Understanding the importance of good photography is key when working on an assignment. Whether that is an event, a product, wedding, or portrait, I will work with you to meet your needs in a professional and timely manner to provide you with images that can be used to promote your business or to look back and treasure for years to come.
Find out more HERE
Association of Indoor Play

The Association of Indoor Play (AIP) is the leading trade association for the indoor play sector in the United Kingdom.
We are a not for profit organisation and act as the voice of the Indoor Play Sector. We are committed to raising the profile of the benefits of indoor play with the public and the Government and to raising the standards and rewarding excellence within the industry.
Look for the AIP logo when choosing your indoor playcentre.
Find out more HERE
Trustist

Businesses with over 25 recent reviews can see a 108% increase in bookings. Trustist helps kids' activities providers get more bookings by helping you easily collect new reviews from your customers.
Trustist then automatically gets your new reviews in front of your potential customers when they visit Google or your website by getting stars in your organic Google search results.
•    Stars in search – you will make more sales because we get you stars in your organic Google search results
•    Review Aggregation – you will be able to see in a snapshot what your online reputation is
•    Review collection – your online reputation will improve by using Trustist…we guarantee it
•    Social media – your best reviews automatically shared to your favourite social media profiles
Book a free demo today HERE

Little Movers
Little Movers is an award-winning, exciting dance and movement programme established in 2007.
We offer fun, engaging classes, events, PE and parties across the UK.
Our programme is specifically designed to engage Preschool children and their families to encourage them to Dance and Play and Keep Fit Every day.
At Little Movers Every Child Matters and our Intergeneration workshops demonstrate you are never too young to dance and you are never too old to play!
Little Movers is enjoyed by everyone with babies coming along from birth and our oldest Little Mover is 103!
Find out more HERE

diddi dance

diddi dance classes are designed to help toddlers enhance their coordination and rhythm. We aim to nurture their natural love of movement in a structured yet relaxed 45-minute class. Classes are suitable for children, once they are confident on their feet, right through to school age.
In our classes we use action songs, dancing games, fun exercises, hoops, ribbons and much more, all to our own original, funky music. We explore dance styles from all over the world allowing preschoolers the chance to discover different music and dance moves as well as having tons of fun!
Find out more HERE
Making Digital Real
Meet Mike Roberts of Making Digital Real!
With his LinkedIn training, conversion boosting magic and social media sorcery, he can turn your inconsistent flow of leads into a steady stream of business.
When he's not busy helping entrepreneurs boost their sales with LinkedIn, he's busy attending live gigs and festivals. Mike makes LinkedIn, sales, video messaging, social media and algorithms simple to conquer, fun and get results.
So if you're ready to take your business to the next level, let Mike work his magic and make your digital real.

Find out more HERE
UK Nanny
Aiming to take the Nanny industry to the next level by bringing Nannies together, helping them grow from strength to strength. UK Nanny delivers CPD events, shares resources, and creates opportunities for Nannies to get together.
The driving force behind UK Nanny is award-winning Nanny Helen McCarthy who cares passionately about the industry.
Helen is the founder and CEO of UK Nanny. She is a qualified NNEB Nanny with over 30 years' experience within the industry. In 2016 Helen was awarded International Nanny of the Year. She currently serves as Co President of The International Nanny Association (INA).
Find out more HERE
Daisy First Aid

Daisy First Aid are passionate about all children's activity providers and their customers having access to great, affordable baby and child first aid training.
With level 3 paediatric first aid and safeguarding courses, duty of care certificates and family first aid classes, we want everyone to have the knowledge and confidence to help save an ill or injured child.
Daisy First Aid have brilliant instructors all across the UK that run classes in homes, venues and online.

Find out more HERE
Bloom Baby Classes

Bloom Baby Classes are a multi award winning baby class franchise.
Each activity aids development and focuses on strengthening the bond between parent and child.  Each activity promotes the natural development of babies from 0-14 months.
Bloom Baby Classes were founded by Victoria Jennings, mum of 3, an early years trained professional who wanted to create a baby class that was warm and welcoming and supported new parents on their journey into parenthood.   Our highly researched classes are based upon the Early Years Foundation Stages of learning and promote post-natal mental health and wellbeing.
Find out more HERE
Little Learners
Little Learners is an award-winning kids activity that encourages learning early writing skills through messy play. We run hundreds of weekly classes, parties and events for under 5s throughout the U.K. and Australia and we also work with schools
Our aim is to encourage every child to 'make their mark' in a fun and supportive environment through our unqiue pre-writing scheme, 'The Mark Makers' and help them to become confident learners. We are passionate about helping children develop their motor skills and early writing through our fun and inclusive programme which can be adapted to support individual need and stage of development.
Find out more HERE
TOTFest®


TOTFest® is a kid's festival with a BIG difference, an entirely immersive event focused on igniting babies, toddlers and pre-schoolers imaginations.

Unique in our demographic of children aged 1-5, we bring together the nation's leading preschool specialists to create an event which is pure magic! TOTFest® puts the littlest guests firmly front and centre, designed to be free roam, allowing children to join in with activities for as long or as little as they like. The agenda is jam packed; 3 themed stages, crazy golf, story time sessions, giant painting canvasses, a baby rave, bubbleologists, , a tots race track, craft zones, a miniature fairground, bounceland, live shows and more!
Find out more HERE
Trimz & Tantrumz Children's Salon
Birmingham & Worcestershires Multi-Award Winning Childrens Salons!
We cater for Children from 6 months to 16 years of age. We are here for children who enjoy their haircut and for children who dislike their haircut.

With our funky decor, TVs with cartoons on every cutting station and novelty barber chairs from Trains, To aeroplanes and Dino trucks to princess cars!
We are also The UKs first Autism Certified Hair Salon helping children overcome their fears of visiting the hairdressers. We also use specially designed equipment unique to our salons to help children during their haircut.
Find out more HERE
Sunshine Strategies
Sunshine Strategies supports businesses, who help children and families to thrive - to grow, make more money and have a bigger impact.
Susan Ferguson, founder of Sunshine Strategies, is a social media consultant and business strategist with over 16 years' experience of running, growing and marketing businesses, 12 of those years being in the Children's events sector.

She now supports others in the children and family sector to create a thriving online presence that generates sales and boosts your business growth. Services include "Done For You" Social Media and Marketing Management, One to One Strategy Sessions and group workshops and training for franchises and other organisations.
Find out more HERE
Sharesy
Sharesy is a London-based venue hire marketplace for community spaces. We help people find spaces for their activities, and help venues find people for their spaces. Our platform makes it simple to book everything from childrens' parties to regular sessions for childrens' activity providers and much more. Find local venues and book them online or just tell our expert team what you need and we'll do all the legwork for you.

Our mission is to bring community spaces to life, for everyone, everywhere. And there is no better way than helping local franchise providers and small businesses find, book and manage their regular venue hire.

Find out more HERE
Ambitious Rewards

Shaping the Future of Youth Engagement.
Our brand new tech platform redefines extracurricular experiences for children and young adults, promoting better mental health. We connect Organizations, Brands, Parents, and Students on a transformative journey.
The result? Enhanced student engagement and increased retention. Parents can track their child's achievements, and activity providers enjoy even deeper insight into their customers' journey. 
Join us in revolutionising youth development with Ambitious Rewards.

Find out more HERE
Book That In
Take your children's activity business to the next level with Book That In, the online booking system that gives you powerful booking functionality at small business prices.
Book That In is dedicated to being the best booking system in the UK at helping you to GROW your business, so say goodbye to late nights doing admin and say hello to more bookings and profit.
The intuitive platform simplifies the booking process for you and your customers, looks great on your website, and works really well for everyone from micro businesses to franchises.
Find out more HERE
Stagecoach Performing Arts

At Stagecoach Performing Arts, we specialise in providing exceptional extra-curricular performing arts education for students aged 4 to 18. Our unique approach focuses on the three performing arts disciplines of acting, singing, and dancing but also instils a range of life skills that we call "Creative Courage For Life®".
In our 35 years of operation, we have helped over one million children and young people build their confidence, courage and resilience and reach their true potential.
Find out more HERE
Drama Kids

Drama Kids has academies across the UK and worldwide that nurture confidence, communication, and creativity. 
Every child is unique and at Drama Kids all our students are treated equally and given the opportunity to shine. We avoid auditions and ensure all our students feel encouraged and nurtured within our classes, enabling them to develop at their own pace. Our goal is to create fun and inspiring drama classes for children.
Classes held in locations across the UK and Worldwide. Helping people of all ages to develop dramatically.
Find out more HERE
Children's Activities Association
The Children's Activities Association is an industry led not-for-profit organisation that offers community, resources, support and membership to the children's activities sector.
Our mission is to raise standards and give parents, carers, schools and nurseries a benchmark for all children's activities with our membership and accreditation scheme.  We now support 1000s of activity providers who have provided their compliance documents and policies.  Membership of the Children's Activities Association evidences excellence and demonstrates all that children's activity providers do to advance the physical, mental and emotional wellbeing of early years and children of all ages.
Find out more HERE
Caudwell Children
Caudwell Children is a national charity providing a wide range of practical and emotional support for thousands of disabled children and families every year.

Passionate about diversity, equity and inclusion, we 'see the child, not the disability' and strive to remove the barriers which prevent children from reaching their full potential.

Vision: A world where all disabled children and their families have choice, opportunity, dignity and understanding.
Mission: Practical and emotional support through compassionate and efficient services
Motto: Whatever It Takes

Find out more HERE

STA
STA is delighted to be back supporting the 2023 What's On 4 Kids Activities Awards as an awards sponsor.

As a UK-registered educational charity dedicated to teaching swimming, lifesaving, and survival techniques, STA is proud to support all the companies, organisations, and individuals that go above and beyond to provide the very best activities for children – activities that enrich their family lives and teach them new skills. 
Close to STA's heart is of course swimming, and we are thrilled to see so many swim schools recognised every year in these awards. Teaching swimming gives babies, infants, and children the opportunity to learn a key life skill, and STA applauds everything swimming teachers do to make learning to swim a fun and enjoyable experience.
The team at STA wishes everyone the best of luck this year in what promises to be another exciting and memorable What's On 4 Kids Activities Awards programme.

Find out more HERE
Mitchy Titch
Avril's passion for yoga and childrens wellbeing shines through in award winning sessions for children from birth to age 12, providing a toolkit to help build calmness & resilience, strength & self-confidence from an early age, skills that will serve children through to adulthood. 
Depending on age, children go on an adventure using yoga poses, stories, and games or begin to learn how to regulate and better understand their emotions, improve concentration, manage stress with breathing techniques, build self-esteem and have positive interactions in group settings. 
It is a joy to be able to teach children these skills.
Find out more HERE
Baby Sensory

Say hello to a world of possibilities with Baby Sensory.
Discover the wonder and benefits of Baby Sensory together, with classes that are designed to stimulate your baby's senses, promote bonding, and support their cognitive and motor development right from birth to 13 months.
Through interactive play and sensory experiences, your baby will learn, develop, and grow at their own pace. Our classes provide a safe and engaging environment for your baby to interact with other parents and babies, building social skills and confidence. At Baby Sensory, we also believe in supporting parents. Our trained practitioners provide a welcoming and supportive environment where you can connect with other parents, share experiences, and receive guidance and advice.
Find out more HERE
Toddler Sense

At Toddler Sense we aim to create well-rounded toddlers who care about the world around them, who are excited about their place within it, and confident in their ability to explore it.
During our adventure play times and structured activities we deliver a wealth of inventive, inclusive, intercultural, and insightful information to you and your child to inspire learning and development for future success.
Our enthusiasm, energy, and expertise in delivering educational experiences drive our exciting adventure play and exploratory activities and prepare your child for the journey ahead.
Find out more HERE
Baby Brews 

Baby Brews is not just a baby group- it's a parent group too!! Aimed at all new/new again parents of non-walking babies, this relaxed group provides a safe space for all.
Each session is meticulously planned to meet babies' social, emotional and neurological development. With a different theme and content each week, all underpinned in educational research and promoting interaction and bonding with your baby.
Along with developing a parent/ baby relationship, here at Baby Brews we understand the importance of how vital it is to form those strong connections with other parents in your community. Time is allocated in every session to allow for a brew, to encourage friendships, and to promote positive mental well being.
 
Find out more HERE
flexibleworking.works

flexibleworking.works – the 'go-to' website for family-friendly, flexible working opportunities.
We love supporting children's activities businesses alongside a whole range of other sectors to find the perfect candidates PLUS helping parents get that family-friendly 'work-life' balance.
We've been all about flexible working for over a decade. So make sure 'flexible' and 'family-friendly' is a big part of YOUR future employment pathway and start living your dreams.

Find out more HERE
X
MEMBER

Quick Sign-up

Or

Already have an account? Login here.
X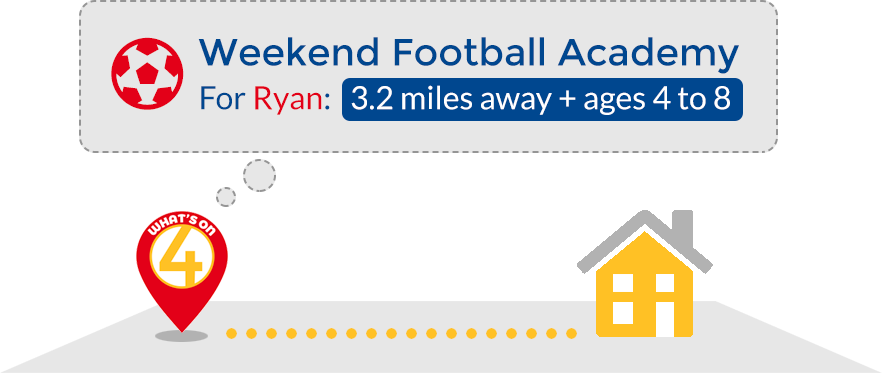 Sign-up for tailored recommendations for YOUR child
Fast sign-up with Facebook, Google or by email
Enter your location, childs interests and age group (all optional)
See recommendations and suggestons built especially for your child