Important information about this prize draw

All members of What's On 4 Kids that have voted in the What's On 4 Kids Activities Awards 2021 will be entered into a free prize draw to win a family ticket to the Warner Bros. Studio Tour - The Making of Harry Potter.  This is an electronic gift card valid for 12 months from the date of issue.
The same email address that is registered on the What's On 4 Kids member account must be used for voting.



Terms & Conditions

1. This prize draw is open to residents of the UK, Channel Islands, Isle of Man and Republic of Ireland aged 18 years or over. Proof of age, identity and eligibility may be requested.
2. Details of how to enter are on our website www.whatson4kids.co.uk and form part of the terms and conditions. By entering the prize draw, you agree to these terms and conditions. Please retain a copy of these terms and conditions for your records.
3. Entries must be submitted by voting in the What's On 4 Kids Activities Awards 2021 using the same email address used to register as a Member on our website www.whatson4kids.co.uk before the end of the voting period in the What's On 4 Kids Activities Awards 2021.
4. All entries must be received by 8th September 2021 at 12noon. However we may by notice on our website extend this closing date and time if we reasonably think that circumstances require this.
5. Only one entry per person shall be accepted.
6. Late, illegible or incomplete entries will not be accepted. We accept no responsibility for participants being unable to connect to our website or any third party website to participate in the prize draw, or if your entry is late or lost, due to any problem, technical or otherwise connected with your email or web connection. Proof of transmission is not proof of receipt.
7. The winner will be decided by us in accordance with the criteria set out on our website and this decision shall be final. No correspondence relating to the prize draw will be entered into.
8. The winner will be notified within 7 days of the closing date of the prize draw.
9. The winner's name may be published on our website or in other media after the closing date of the prize draw.
10. The prize is non transferable and there are no cash alternatives.
11. Events may occur that render the prize draw itself or the awarding of the prize impossible due to reasons beyond our reasonable control and accordingly we may at our absolute discretion vary or amend the prize draw and the entrant agrees that we shall have no liability as a result thereof.
12. If you win the prize draw, you may be required to participate in publicity and you agree to this and to the publishing of your name on our website and in any other promotional materials.
13. By giving us your details, you are agreeing that we may send you future promotional materials by email from time to time, such as our newsletter and details of special offers that may be of interest. You may unsubscribe at any time in accordance with our privacy policy.
14. We will own the copyright and all other intellectual property rights in all entries to the prize draw and in consideration of us alowing you entry to the prize draw, you hereby irrevocably and with full title guarantee assign to us all such rights.
15. Entry to the prize draw is free and no purchase is necessary.
16. These terms and conditions are governed by English law.
17. The promoter of this prize draw is What's On 4 Ltd t/a Grow4th.
18. By entering the prize draw, you hereby:

•    completely and irrevocably release Facebook from any liability whatsoever related to this prize draw; and
•    acknowledge that the promotion is in no way sponsored, endorsed or administered by, or associated with, Facebook.




X
MEMBER

Quick Sign-up

Or

Already have an account? Login here.
X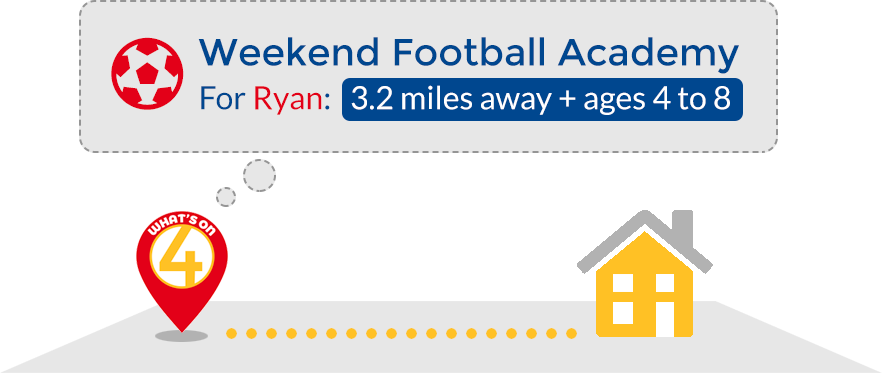 Sign-up for tailored recommendations for YOUR child
Fast sign-up with Facebook, Google or by email
Enter your location, childs interests and age group (all optional)
See recommendations and suggestons built especially for your child